---
Intercom Products
Radiocom:
Wireless Intercom
Radiocom Base Station Repeater
TR-200 Beltpack Transceivers
Radiocom TT-34 IFB Transmitter
Radiocom TR-34 16 Channel Talent Receiver
---
Description:
The BTR-500 features a UHF transmitting belt pack and receiving basestation, and is a full duplex wireless intercom system addressing two independent channels of wired intercom from the basestation. Operating in the 524 to 608 MHz and 614 to 746 MHz frequency bands, the unit offers full frequency agility. The system integrates into any two-wire or four-wire Telex, RTS or other intercom system. The digital encryption scheme offers a cipher code of 65,536 possible combinations ensuring interference free transmissions that cannot be intercepted. The BTR-500 is identical to the BTR-600, less the digital encryption system.
---
BTR-200II Base Station Repeater

4 channel base station repeater with four receive channels and one common transmit channel. Compatible w/RTS TW/RTS Matrix/Audiocom TW/Clearcom.
---
Description:
Compact, lightweight and durable beltpack with low profile controls to protect from interference. Provides headset communication between the base and others TR-200s. Beltpacks operate on 2 frequencies one for transmit and one for receive.
---
Radiocom TT-34 IFB Transmitter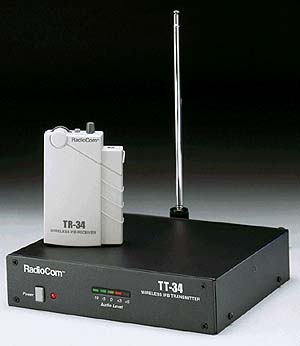 The low power TT-34 transmitter interfaces directly to wired intercom lines, and provides a wireless link to TR-34 receivers.
---
Radiocom TR-34 16 Channel Talent Receiver
Description:
The 16-channel synthesized TR-34 receiver, tunes eight frequencies in channel 3 and eight in channel 4. The receiver is designed for use with standard IFB earpieces such as the Telex announcers earpiece system.
---
Return to Telex Intercom Products menu
---
Pricing
In the near future, you will be able to click here to enter the SHOWORKS' pricing site. For now, please Contact Us by telephone, fax, or e-mail.
---
---

Visitors Since April 22, 1998... Thank you!
Send mail with questions or comments about this web site to webmaster@SHOWORKS.com.
Copyright © 1998-2002, SHOWORKS, Inc.
Last modified: February 11, 2003